Description
Ingredients
Recommended consumption
Ratings
100% pure vegetabel feeding.
Goat milk from Austria.
Better tolerance (A2 milk)
Excellent tolerance compared to cow's milk products.
Free of artificial additives
Without sweeteners, dyes or stabilizers.
Natural ingredients and nothing else.
All nutrients and vitamins are
preserved.
Free of genetically modified raw
materials.
WHY YOU SHOULD USE GOAT MILK PROTEIN
Goat milk is a so-called A2 milk which tends to be digested much better than cow's milk (A1 milk). Goat protein also has a high proportion of short and medium chain fats (MCT fats) which can be metabolized better by the body. Many people develop an intolerance to cow's milk, goat protein can be a very good alternative due to its generally better tolerance.
✓ very good tolerance (obtained from A2 milk)
✓ high proportion of essential amino acids
✓ less allergies and intolerance
✓ ideal for strength and endurance sports as well as for regeneration
✓ manufactured with cross-flow microfiltration (CFM)
How does goat protein taste?
First of all, goat protein has no "goat cheese-like taste " but is neutral in taste and pleasantly milky. It has a similar texture to casein and can therefore also be used very well for baking. The milk for our goat protein comes exclusively from Austrian farmers who keep their animals on pastures appropriate to the species.
Frequently asked questions
Is your protein cold processed (CFM)?
Yes, our protein is cold processed. But what does cold processing actually mean? Here the protein is obtained using cross-flow microfiltration (CFM). The processing process does not require any chemicals. Protein that is processed using CFM is therefore one of the purest and highest quality proteins. The CFM filtration process ensures that the protein has the highest possible amount of essential amino acids. These are those amino acids that the body needs but cannot generate itself
Is there really no sugar added?
Our products are free from added sugar or sweeteners and only naturally contain sugar. This natural sugar comes from real ingredients such as freeze-dried strawberry or banana powder.
Can I use the protein powder for baking?
Yes, that is possible. Simply replace a certain amount of flour with our protein powder. So you can effectively increase the protein content of some dishes..
Is your protein gluten and soy free?
Yes, our protein powder is gluten and soy free.
INGREDIENTS
100% Goat Milk Protein
NUTRITION FACTS

AMINO ACIDS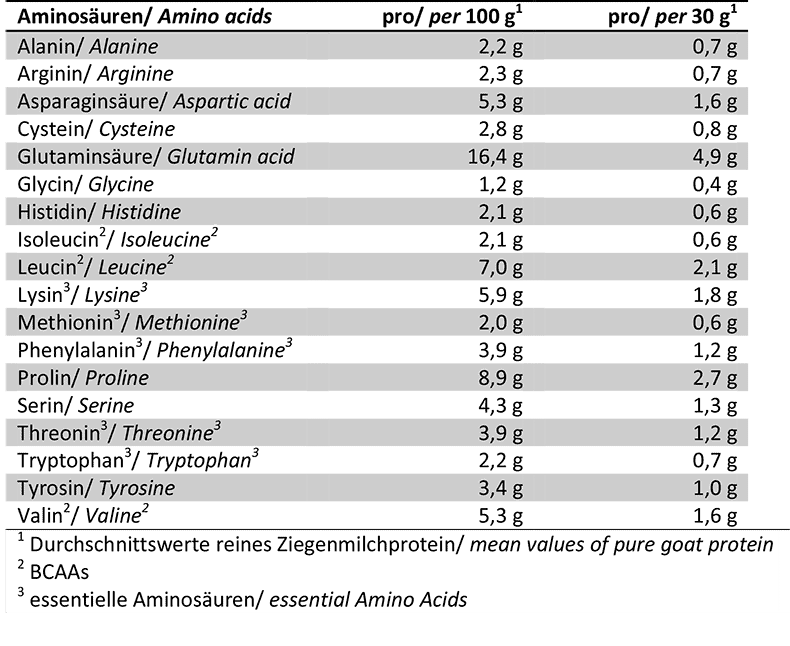 CHARACTERISTICS
Vegetarian, gluten free, soy free
NOTE
Naturally contains milk sugar (lactose). A varied diet and a healthy lifestyle are important.
PREPERATION AS SHAKE
Give 30 g (about 3 tablespoons) of protein powder in 300 ml water or vegetable milk substitute (oat drink, coconut drink, rice drink, etc.) and  mix it with a shaker (including strainer) or blender. First fill the liquid into the shaker, then add the protein powder and shake vigorously for 20 seconds.
ALTERNATIVE APPLICATION POSSIBILITIES
Ideal as an addition to smoothies, shakes, muesli / porridge, yoghurts and much more. It is also ideal for baking and can effectively increase the protein content of food.
RECOMMENDED USAGE
1-3 servings daily, as required.
EMPFOHLENER ZEITPUNKT
✓ in the morning
✓ right after strength training
Related products
premium high quality organic whey protein
without artificial additives and sweeteners
unique gingerbread flavor
gentle production using CFM
ideal for fitness training and endurance sport as well as regeneration

premium high quality organic whey protein
without artificial additives and sweeteners
natural taste due to real organic bananas
gentle production using CFM
ideal for fitness training and endurance sport aas well as regeneration

pea protein in highest organic quality
suitable for vegans, vegetarians and allergy sufferers
versatile
high proportion of essential amino acids

100% organic hemp protein from Austria
suitable for vegans, vegetarians and allergy sufferers
high fiber
high proportion of essential amino acids
Payment Methods