Description
Ingredients
Recommended consumption
Ratings
Cultivation and processing in Austria.
100% pure flaxseed protein.
All nutrients and vitamins are preserved.
Ecological and sustainable
All raw materials from certified organic agriculture.
Free of genetically modified raw materials.
NATURAL FLAXSEED PROTEIN IN HIGHEST ORGANIC QUALITY
Our organic flaxseed protein is a vegan protein powder made from organically grown flax seeds. For this, the seeds are de-oiled in a gentle process and then ground to a fine powder. Highest standards in the production and selection of raw materials guarantee us to be able to offer a certified organic protein of the highest quality.
✓ vegan protein source
✓ raw
✓ versatile
✓ ecological and sustainable
✓ no allergens
Flaxseed protein has a slightly nutty, typical aroma and is particularly suitable as an addition to smoothies, smoothie bowls, fruit and vegetable juices, shakes, drinks, porridges, cereals, u.v.m. Due to its properties and texture, it can also be used excellently for baking and cooking. The natural organic linseed protein is a very good source of protein in a vegetable, vegan diet and can thus serve as a substitute for animal protein sources.
Frequently asked questions
What does organic quality mean?
All our raw materials are sourced exclusively from certified organic agriculture, where the use of antibiotics, pesticides and other chemical additives is strictly prohibited. Thus, we can offer products of the highest quality and purity. Organic certified products also promote animal welfare and ecological, sustainable agriculture. Organic products are identified by the green EU organic label.
INGREDIENTS
100% Flaxseed protein*
*from certified organic agriculture
NUTRITION FACTS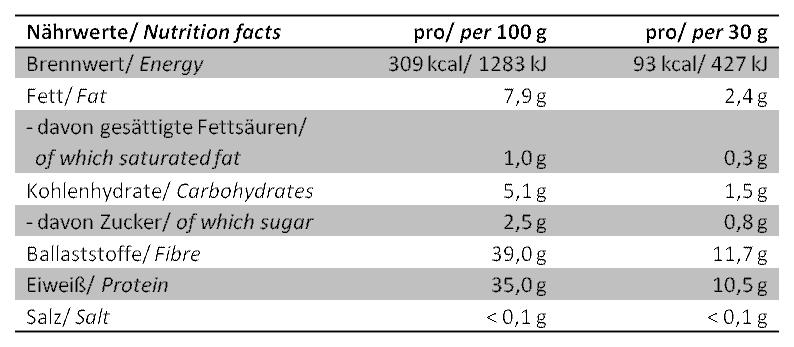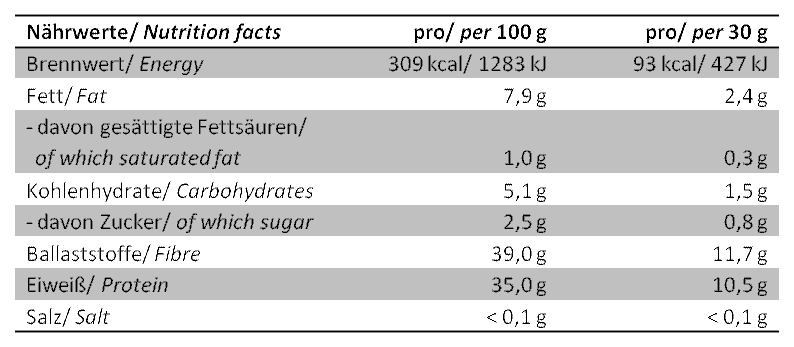 CHARACTERISTICS
Organic, vegan, gluten free, soy free, lactose free
NOTE
A varied diet and a healthy lifestyle are important.
USAGE
Ideal as an addition (á 30 g) to shakes, fruit and vegetable juices, smoothies, muesli/porridge, yogurts and much more. Due to its property and texture, it is also excellent for cooking and baking.
RECOMMENDED USAGE
1-3 servings daily, as needed.
RECOMMENDED TIME
✓ in the morning
✓ in the evening
✓ directly after trainig
Related products
On Sale!

On Sale!

premium high quality organic whey protein
without artificial additives and sweeteners
natural taste due to real organic superfoods
gentle production using CFM
ideal for fitness training and endurance sport as well as regeneration

premium high quality organic whey protein
without artificial additives and sweeteners
natural taste due to real organic bananas
gentle production using CFM
ideal for fitness training and endurance sport aas well as regeneration

gluten free
free from preservatives and flavor enhancers
suitable for ketogenic and low carb diets
31 g Protein and only 6,5 g Carbohydrates

rice protein in highest organic quality
suitable for vegans, vegetarians and allergy sufferers
versatile
high proportion of essential amino acids
Payment Methods