Description
Ingredients
Recommended consumption
Ratings
Without sweeteners, dyes or stabilizers.
Natural sweetness from real
ingredients.
Ecological and sustainable
All raw materials from certified organic
agriculture.
Free of genetically modified raw
materials.
YOUR ORGANIC VEGAN POWER BAR TO GO!
For our organic flax seed protein bar we use only the best selected ingredients. Organic flaxseed protein from Austria forms the basis, supplemented with other high-quality superfoods such as acai or ginger, our bar is a true vegetable power bar with valuable nutrients. Our vegan protein bar tastes particularly delicious and also convinces with a loose consistency without crumbling. The individual ingredients are optimally matched and together result in an excellent natural taste. Perfect for on the go, while exercising or as a healthy snack for work. Our protein bar gives you the energy you need at any time.
✓ 100% natural ingredients
✓ perfect energy supplier
✓ excellent taste
✓ without added sugar
Frequently asked questions
What does organic quality mean?
All our raw materials are sourced exclusively from certified organic agriculture, where the use of antibiotics, pesticides and other chemical additives is strictly prohibited. Thus, we can offer products of the highest quality and purity. Organic certified products also promote animal welfare and ecological, sustainable agriculture. Organic products are identified by the green EU organic label.
INGREDIENTS
Flaxseed protein powder*, Sultanins*, Apricots*, Cocoa butter*, Acai*, Ginger*.
*from certified organic agriculture
NUTRITiON FACTS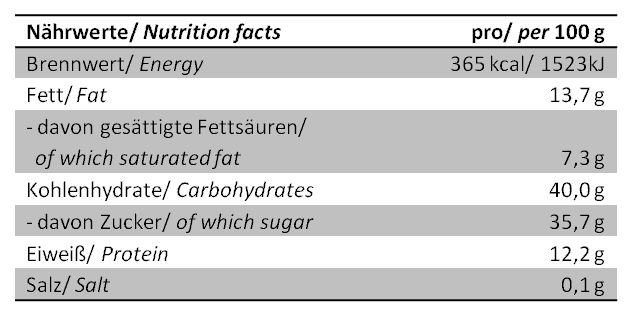 CHARACTERISTICS
Organic, vegan, gluten free, soy free, lactose free
NOTE
A varied diet and a healthy lifestyle are important.
RECOMMENDED USAGE
Ideal for in between, be it while playing sports, at work or to go.
Related products
On Sale!

On Sale!

gluten free
vegan
especially tasty
without added sugar or sweeteners

from 100% organic coconut oil
caprylic acid  C8 + capric acid C10
for ketogenic diet
vegan

100% organic sunflower seed protein from Austria
vegan
energy to go
without added sugar or sweeteners

100% organic pumpkin seed protein from Austria
vegan
energy to go
without added sugar or sweeteners
Payment Methods