Description
Ingredients
Recommended consumption
Ratings
Suitabel for gluten free diet.
Ready within 3 minutes for
the oven.
Free from preservatives
or flavor enhancers.
22 g protein at only 2,6g
carbohydrates.
Ecological and sustainable
All raw materials from controlled
organic agriculture.
Daily fresh bread
like from the baker.
FRESH PROTEIN BREAD IN THE HIGHEST ORGANIC QUALITY
With only 2.6 g of carbohydrates and 22 g of protein, our organic Low Carb Baking Mix is ​​perfect for low-carbohydrate diets or ketogenic diets. Our baking mix contains 90% less carbohydrates than regular whole grain breads and is ready for the oven within 3 minutes. Due to the unique combination of selected ingredients, our organic pumpkin seed bread baking mixture tastes particularly delicious- like from the baker next door.
✓ gluten free
✓ light and digestible
✓ fast and easy
✓ high protein & low carb
Frequently asked questions
What does organic quality mean?
All our raw materials are sourced exclusively from certified organic agriculture, where the use of antibiotics, pesticides and other chemical additives is strictly prohibited. Thus, we can offer products of the highest quality and purity. Organic certified products also promote animal welfare and ecological, sustainable agriculture. Organic products are identified by the green EU organic label.
INGREDIENTS
Pumkin seed flour*, pumkin seeds*, sunflower seeds*,almond flour*, gold flaxseed flour*, gold flaxseed*, psyllium husk*, buckwheat flour*, baking powder, sesame flour*, salt.
*from controlled organic agriculture.
You add: 1/2 cube of fresh yeast or 1 package of dried yeast and 250 ml of lukewarm water.
NUTRITION FACTS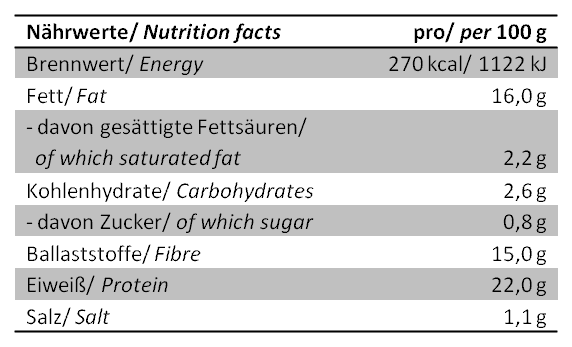 CHARACTERISTICS
Organic, vegan, gluten free, soy free, lactose free
NOTE
A varied diet and a healthy lifestyle are important.
PREPARATION
You add: 1/2 cube of fresh yeast or 1 package of dried yeast and 250 ml of lukewarm water.
1. Preheat oven to 180°C convection or 200°C top/bottom heat.
2. Pour baking mixture into a mixing bowl.
3. Dissolve the yeast in water, add to the baking mix and knead until dough comes together. Let it swell for 1 minute.
4. Shape the dough into a loaf with wet hands and leave to rise for 10 min on an oven rack lined with baking paper.
5. Bake the loaf on the middle shelf for about 55 min.
6. After 55 min, switch off the oven and let the bread inside the closed warm oven for 5 minutes.
7. Leave the bread outside to cool completely before slicing.
Related products
pea protein in highest organic quality
suitable for vegans, vegetarians and allergy sufferers
versatile
high proportion of essential amino acids

rice protein in highest organic quality
suitable for vegans, vegetarians and allergy sufferers
versatile
high proportion of essential amino acids

gluten free
free from preservatives and flavor enhancers
suitable for ketogenic and low carb diets
31 g Protein and only 6,5 g Carbohydrates

natural oat powder of the highest organic quality
without artifical additives
rich in complex carbohydrates
gluten free
Payment Methods